Publication of AUXFIN Burundi status report 2022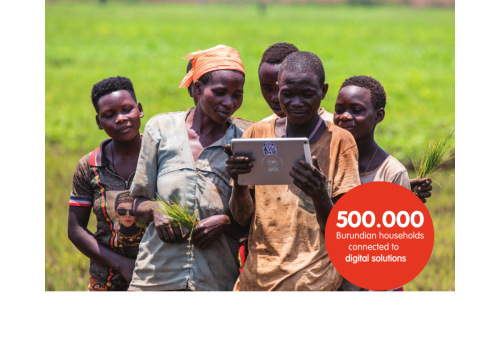 500.000 Burundian households connected to digital solutions.
In Burundi, only 6% of the population uses the internet, ranking as the lowest internet penetration rate worldwide. AUXFIN is changing this number quickly by offering digital technologies to the rural population.In 2022 AUXFIN Burundi has succeeded in reaching half a million people on a regular basis with digital solutions that contribute to their development.
AUXFIN is now reaching 10,751 G50 groups in 11 provinces of Burundi. These G50 groups consist of 517.220 registered households, indirectly reaching about 3 million people in Burundi.
The G50 groups save weekly on their bank account, digitally purchase inputs such as fertilisers, use financial services, go through the training content from the eCoaches together and start joint projects. In 2022, 9.3 million kilograms of fertiliser were sold and transactions were done for a total of 4.4 million dollars.
Read all about this and the other results of AUXFIN Burundi in the publication "AUXFIN Burundi status report 2022" in English or French.

View Report in EnglishDownload Report

Voir la version FrançaiseTélécharger Rapport
Latest Reports
The end of the GAP4ALL project
24 June 2022
AUXFIN Burundi G50 status report
23 June 2022
Field report interviews G50 groups March 2021
22 June 2022
AgriCoach case studies 2020 - 2021
21 June 2022
World Meteorological Day!
20 June 2022